SmartWhois and Microsoft Internet Explorer
What a Useful Button!
Have you noticed that little SmartWhois button on the Internet Explorer (IE) toolbar? If it's not there, make sure that the IE add-in is activated (in SmartWhois, click Options => Integration => Add SmartWhois to Internet Explorer menu and toolbar) and restart IE. Using this handy button, you can invoke SmartWhois every time you want to get more information about the web site you are visiting: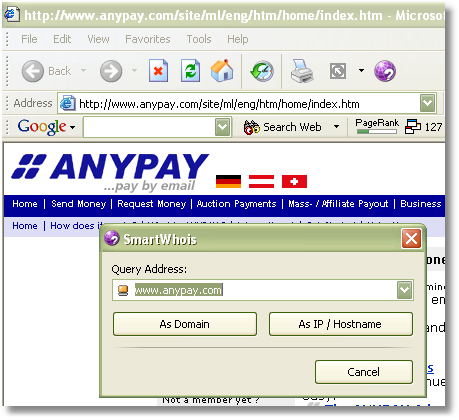 When you click on the toolbar button, the address field is pre-filled with the site address. What SmartWhois actually does is strips the URL in the IE address bar of the unnecessary parts. For example, if the current URL is "http://www.anypay.com/site/ml/eng/htm/home/index.htm," SmartWhois cuts off everything that does not constitute the site host name, "www.anypay.com." Now that we have the host name, we can perform a domain query on "anypay.com" (yes, SmartWhois will automatically cut off the unnecessary "www." part if you perform a domain query) to find out who owns this domain, or an IP address / host name query if you want to find out where the web server is hosted.